Even though Canada has 1/5  of the world's fresh water, and a reliable source of clean drinking water, we still see bottled water in many ecotourism businesses across the country. Why? Because it provides a more reliable and predictable water source for many places, and satisfies customers need for convenient and clean water.
Why do people love bottled water?
People drink bottled water because they've been told it is cleaner, safe and super convenient. Advertising plays a huge role in making bottled water sexy and tap water scary. Therefore, people are willing to pay for bottled water.
Why do businesses sell it?
To satisfy this perceived need from their consumers and, let's face it, there is a significant profit margin to selling bottled water. I know it may be easy to overlook the downside to bottled water when you're buying it for $0.25 per bottle and selling it for $2.00, but is there another way you can make money without supporting the bottled water industry?
What will it take to make the switch? The answer is two-fold: more education and a better alternatives.
Why bottled isn't healthier (for people or the environment)
What is the Solution?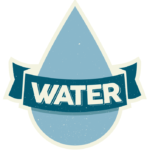 At Sustainable Tourism 2030, we give a business points during their assessment for reducing single waste plastic. If that isn't possible, then points are provided if they locally source bottled water, ideally purchased in bulk. And health always comes first, so if a business is off-grid and doing their own filtering, they must ensure that drinking water complies with all environmental, health and safety legislation.
Serve Filtered Tap Water
Tap water is a less energy-intensive option to providing bottled water (through transport systems and waste). Many consumers however would like to avoid chlorinated water and find tap water distasteful. Removing such chemicals is possible using a filter system. This may be a simple jug system (like Brita, which can recycle their filters) or via a full treatment process (such as ultraviolet or chlorine systems). Customers should be made aware of the availability of filtered water before they arrive to ensure they do not bring their own bottled water or expect to purchase it onsite.
Here's a few ideas from some businesses we've worked with:
Quail's Gate Estate Winery serves filtered water in glass bottles that are then stored in a fridge, giving guests the feeling like they're drinking fresh bottled water.
At Blackrock Oceanfront Resort, there are water fountains all over the property, so wherever you are in the hotel, you have the availability of water even if you're not carrying a bottle.
The water fountains at Vancouver Aquarium educate each visitor about bottled water every time you take a drink.
Install a filtered refilling system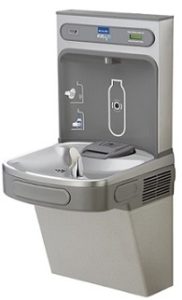 There are a lot of water fountains that allow you to fill up your large reusable bottle as well as take a quick drink. Systems like these are widely seen in universities and fitness centres around the country, and provides adequate space to fill up a reusable bottle and take a drink. The counter is a handy way to assure guests that the filters are in good working order and they are receiving high quality water. You could also have reusable cups in common areas with still or sparkling options so guests can fill up with a reusable cup or their own water bottle. Several restaurants are now serving water filtered onsite in branded glass bottles, which look elegant while reducing waste.
Serve regionally bottled water
If your businesses is in an area where you can't distribute filtered tap water to your guests and need to bring in bottled water, try to get water from a source as close to home as possible. The production of plastic bottles to bottle water is responsible for over 70% of the energy use of regional bottled systems, mostly because of the transportation and distribution. When you find one, ensure the environment is a priority for them. Many have large water licenses that don't take into account fish and seasonal changes, so ask them about the watersheds they draw from. And remember, Nestle is not local.
Can you still make money by serving filtered tap water?
Yes if you are creative. Don't sell water; sell something to carry the water. This is your chance to get high quality branded water bottles and to go mugs that people will be lining up for. Do some shopping around for the best product to suit your company. There are shatterproof glass water bottles, stainless steel bottles or a BPA free plastic bottles.
Take a stand and attract like-minded guests
You have an opportunity to educate guests on why you have stopped serving bottled water and have provided a very safe and affordable alternative, you will inspire other businesses to do the same and stick in the minds of guests who are pleasantly surprises that you have made the switch.
Enjoy this article? Read about our post: 5 reasons why throwing food waste in the trash is wrong.