Our sustainable tourism community has not been immune to the impacts of the pandemic, but how some of our members have rallied is truly awe-inspiring and humbling. What has perhaps been most encouraging of all is to witness how individuals and communities have come together to support one another through these difficult times – true sustainability. Our members are no exception. One specific story sticks out in our minds and as we make our exit from 2020, we'd like to share that story with you now.
What Sustainability (Really) Means
In our program, sustainability is not only viewed as how our members are protecting the environments they work in and around. Sustainability is multi-faceted: yes, we consider environmental impacts, but our program also takes into consideration cultural, social, and economic sustainability. Of course, taking care of our planet is of the utmost importance, but if there is not also focus on all the other aspects of sustainability, none of it "works." The global pandemic shed light on this important connection, one of the fortunate silver linings to a bad situation.
Our tourism community took a major hit this year, with COVID pandemic restrictions forcing many to reduce capacity and hours, lay off staff, or in many cases, shut their doors entirely. Adventure tourism operators were especially hindered and many had to cancel their summer and fall tours. But one group of operators took another approach.
Combatting Pandemic Blues
Four months ago, the Small Ship Tourism Operators Association, together with the Wilderness Tourism Association of BC, brought forth a proposal to the provincial government of British Columbia, to operate two expeditions along a remote section of BC's central coast. The purpose of these expeditions would be to clean up human-produced marine plastic pollution from these hard-to-access areas. (Marine debris had been identified as an issue of concern a year prior by the Minister of Environment.)
The Small Ship Tourism Operators Association (SSTOA) is a group of seven adventure and ecotourism operators on the coast of BC, and three of their members also happen to be members of Sustainable Tourism: Maple Leaf Adventures, Outer Shores Expeditions, and Bluewater Adventures.
The proposal was a first-of-its-kind. It was not just about cleaning up the environment (but obviously, we were excited to see our members participating in such incredible work). What really excited us about this work, was what this project did for this group of operators. It exemplified what true sustainability really means. Instead of laying off their crews and harbouring their vessels due to a lack of tourism from COVID (effectively closing their doors for the seasons), SSTOA members decided to use this time for good. If they couldn't take guests out on epic journeys to remote parts of BC's coast, they would use their ship time to instead keep their staff employed and clean up their "neighbourhood" so to speak: what is considered by many to be some of the most remote, wild, and beautiful coastline along BC's Central Coast.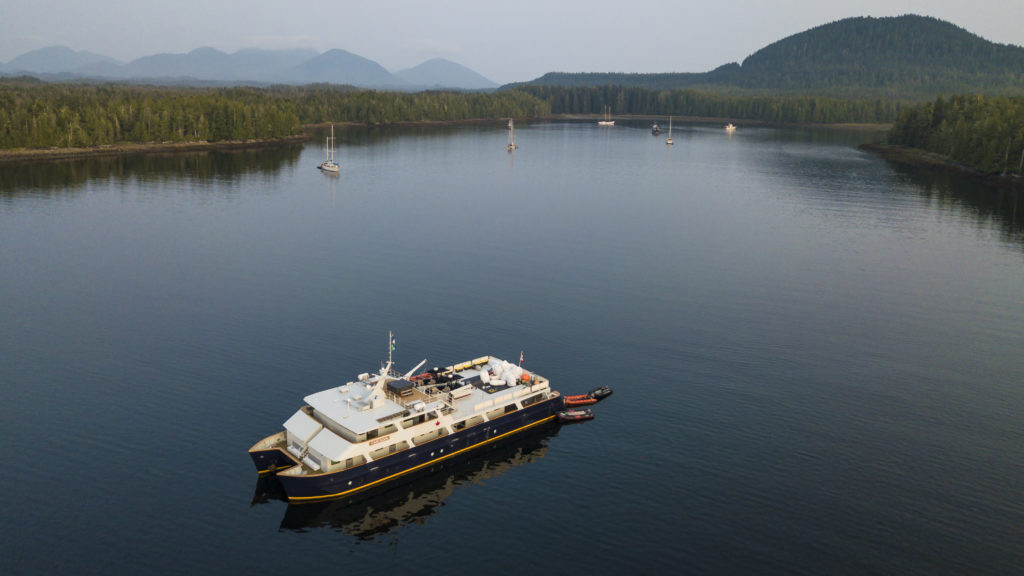 Protecting What We Love
For our members in the adventure- and ecotourism space, their ultimate goal is to bring their guests safely into the wilderness, and to promote a love of nature. It is through direct interaction with these environments that their guests can see things differently, understanding the impacts they have. By falling in love with wild spaces, they're compelled to tackle the big problems of the day: pollution, climate change, preservation of wilderness. This is a central tenant of good sustainability practice.
And, it's certainly the case with all of the members of the SSTOA, and our three Sustainable Tourism members who participated in these expeditions:
Maple Leaf Adventures offers ecotourism adventures aboard its three boutique expedition ships, providing conservation-focused adventures since 1986. "The trips provide special access to the wildlife, landscapes, culture and nature of the coast while providing the excitement of an adventure by ship."
Outer Shores Expeditions makes it their mission to contribute to the conservation of the ecosystems, cultures, and communities of the coastal regions they bring their guests to. "We believe that providing first-hand experience and understanding of some of the most spectacular wildlife and ecosystems on the planet is key to their protection and preservation."
And, for 43 years, Bluewater Adventures has committed to establishing partnerships with environmental organizations, First Nations communities, and individuals, to deliver diverse adventures to its guests, adventures that leave a positive impact long after their vessels have returned home.
The Marine Debris Removal Initiative
What was wholly unique about this project, dubbed the Marine Debris Removal Initiative, was the collaborative nature of it. Not only tourism operators were involved: First Nation communities helped inform much of the work, and there were dozens of support staff (yes, including helicopters!) and research scientists on board to help make it happen. The Wilderness Tourism Association of BC provided invaluable assistance in getting the proposal in front of the right eyes. And, this project was massive: $3.5 million was granted to these groups for them to successfully engage in cleanup efforts and keep their communities afloat through the pandemic.
During a normal tourism season and due to the nature of BC's coastline, tour companies and their crews operate in shared waters but don't often have the opportunity to interact in person. They might see each other in passing during their respective adventure tours, or hear each other on the radios, but rarely would they ever have the opportunity to spend time together. This project allowed them to interact more closely and as it turns out, to also form tighter bonds and forge new, deeper relationships.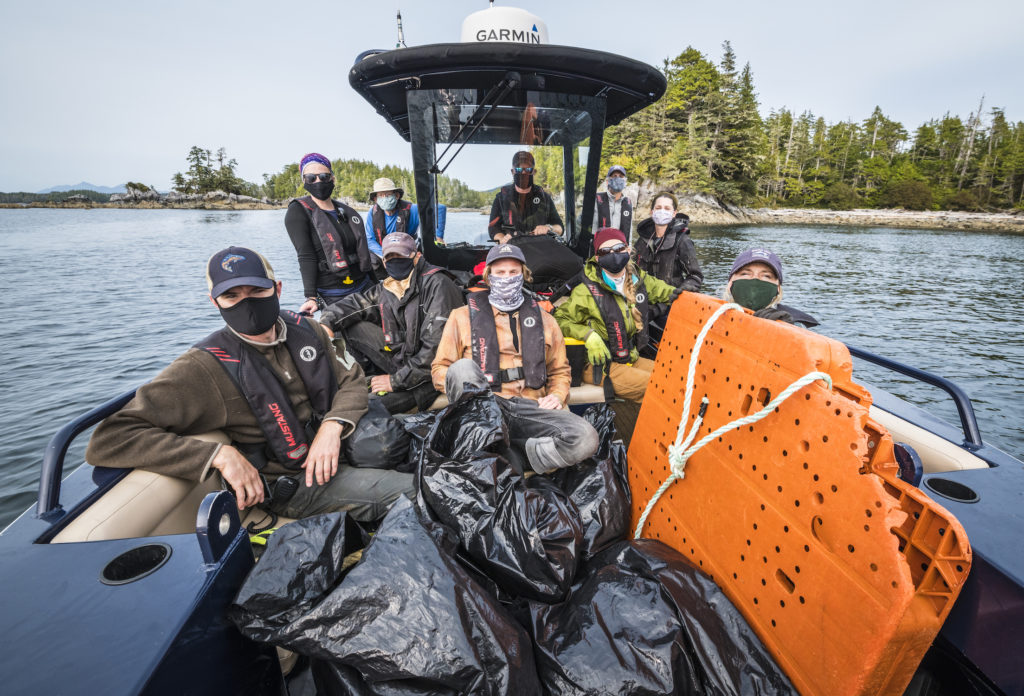 We were fortunate enough to connect with two of our members who took part in these expeditions and spoke with Courtney Halvorson Adventure Travel Operations Coordinator for Maple Leaf Adventures and Oriana Smy, Guest Services and Marketing Coordinator for Outer Shores Expeditions about their time on the coast. This was a unique opportunity for both of them to get out of the office and into the field and both were eager to share their experiences.     
Coming Together
Here's what Oriana had to say about the act of coming together for a united cause:
"To be out there working together as one fleet is really incredible. Similar values and capabilities. Pooling resources for the greater good. Encouraging and inspiring. Stronger together than apart."
For Courtney, it was the understanding that a new normal might have taken root through this initiative. Because of COVID, and to keep these expeditions safe, all crews working together also quarantined together, so they were really able to get to know one other – and share in the collective grief that inevitably arises when faced with so much human-produced trash on such remote areas of coastline. Relationships were strengthened and deepened during these moments. "Whereas before, communications were technical, now they may be different. [We're] coming together not as competitors, but coming together under a common goal and purpose. [We] love the same places and want to work together to make it better."
Courtney and Oriana were on different ships during these expeditions but both returned a renewed appreciation for BC's beautiful, rugged, and wild coastline. Here's a bit from our conversations with both of them:
Eyes Wide Open
What has been the most eye-opening aspect of this expedition? What surprised you most?
From Courtney:
"It's gruelling work. Like doing CrossFit every day. But everybody was so happy and it was so fun. Cut off from social media and the news and focused on the task at hand."
She also coined a new phrase for her plastic-pollution-picking compatriots: "Marine debris removal technicians!" – we'll be using that for our next community cleanup. Thanks, Courtney!
From Oriana:
"[I was] surprised to see so much large scale industrial-scale commercial debris. Fishing nets, PVC, ABS piping, hundred-meter piping…Where is it coming from? [It was] shocking, devastating.
Our team at Sustainable Tourism is not without its share of intense experiences, cleaning up foreign plastics from beautiful coastlines. Often, this debris has been circulating in our oceans for months, years, and is hard to track to its source. And with each new wave, brings more and more trash. It is a tragedy that appears to have no end, and it is heartbreaking, puzzling work.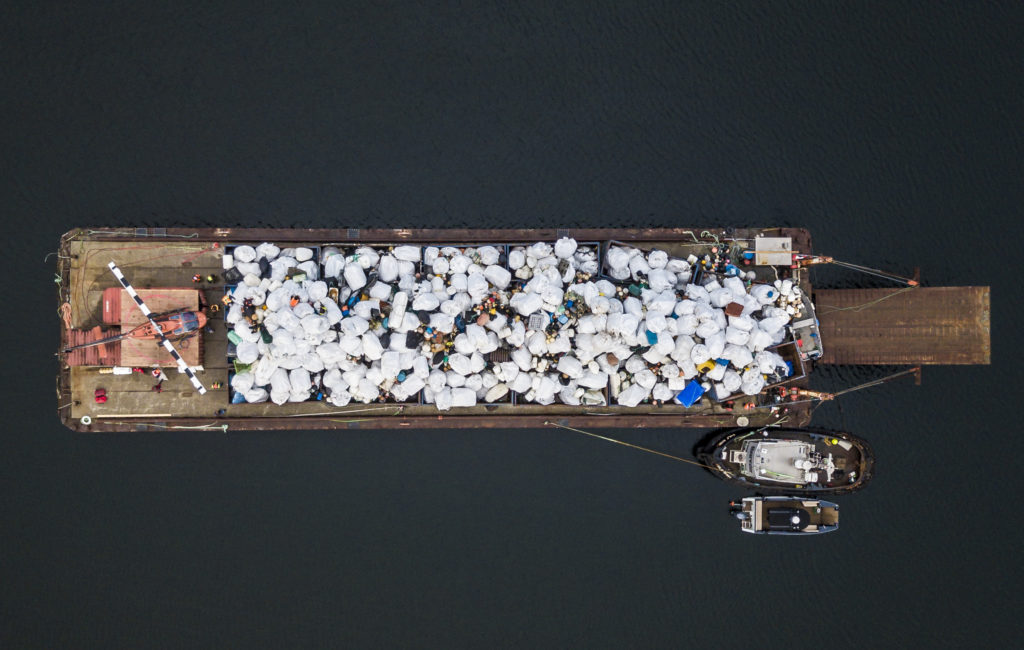 And we heard this, from both Courtney and Oriana. When speaking about plastics invading such wild spaces, we felt their mixed emotions. (Even across cell phone connections hundreds of kilometres apart) The pain of stumbling upon intertidal areas full to bursting with so many plastic water bottles. Being followed – at a distance – by wild animals and coming to an understanding that it is their home this waste is impacting. As Courtney said, she "will never look at those wild, pristine beaches the same way again." 
This is why, we were so encouraged and uplifted to hear how this work – despite its physical and mental intensity – also compelled crew members to appreciate, more than ever, the places where they take their guests. There was a renewed sense of purpose for the work they do.
"To see the crew light up and see how important it was to everyone…this is why we're here. We take people out to amazing places to teach them about it. [We] turned what could have been a catastrophic year into something really beautiful to give back. [It] was a special three weeks. – Courtney
Building Community Through Cleanup
How does it make you feel to know that you've been able to keep your staff employed, engage with the community, strengthen relationships with locals and First Nation communities, and help the environment, all through this initiative?
From Courtney:
"COVID has been so devastating in so many ways but to be able to give back to these (wild) areas was really gratifying." She also brought up the feeling of immense gratitude for the crews who took part in the expeditions. "They get to go out and do something they believe in but also that they're employed for something they believe in. This is a cause they believe in."
Positive Impacts & Outcomes
What impact do you think this initiative will have? What outcome do you hope for?
Courtney hopes that this work will help "pull back the shade" on the issue of marine plastic pollution. She also hopes that stories like hers and others will help influence decision-makers around single-use plastics globally. She wants this work will to help shift the actions of everyday consumers as well as that of industry. And ultimately, she'd like to see her company weave these stories into the programs they offer. By taking guests to the same beaches she and her colleagues cleaned up, they'll be able to educate and inspire them to consider making changes in their own lives.
Oriana was filled with hope that this work will create awareness to inform management practices and change how we as consumers use plastics. She also expressed how rewarding it was, to be part of this ground-breaking project. "[The] crews are incredibly passionate about bettering the state of the ocean and nearshore environment."
Both touched on the very real, very overwhelming nature of the state of the issue. While the Initiative managed to clean up approximately 1,000+ kilometres of coastline, amounting to a staggering 127 tonnes of debris, the crews could not capture it all.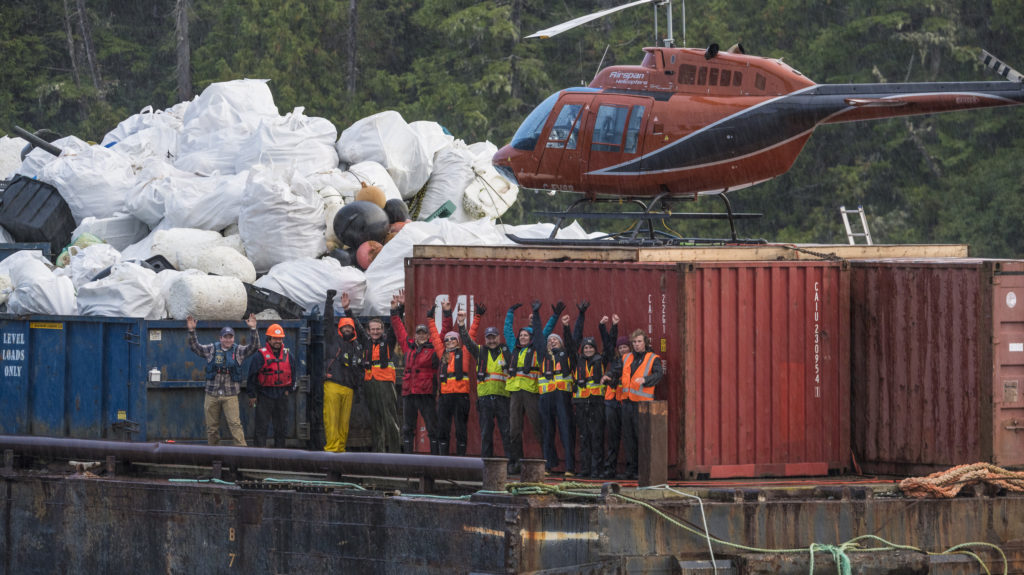 What's Next?
Ultimately, this is work that will be on-going. Data is still being processed for the first expeditions and will help inform future cleanup efforts. According to Scott Benson, Executive Director for the Wilderness Tourism Association of BC, "this is not a one-time effort. There is more cleanup work to do. [There are] big questions and difficult problems to solve."
Cleanup efforts such as this are never "over" nor is work of sustainability. It's ongoing work. What we're taking away from this story is not that there is still plastic pollution out there. No, our takeaway is that collaboration is paramount to long-lasting sustainability efforts. We're hopeful that these ways of working together will stick and take hold well into the future. The pandemic simply highlighted a simple truth. Sustainability is multi-faceted and for it to work, all hands have to be on deck.
We'll end this story with a phrase Oriana repeated during our conversation, and something her boss Russell – and founder of Outer Shores Expeditions – says frequently. We feel it perfectly embodies this story and what we believe about true sustainability:
"Teamwork makes the dreamwork" – Russell Markel, Outer Shores Expeditions
(We owe a great deal of gratitude to our faraway photographer colleagues who generously gave us permission to use their visual art for this story. To the teams of Maple Leaf Adventures and Outer Shores Expeditions, thank you! As well, Jeff Reynolds: his visuals capture the essence of this experience. To view more photos from the Marine Debris Removal Initiative, please visit his website here.)
To learn more about the Marine Debris Removal Initiative and its achievements, click here.
Be sure to check out our members' websites and social channels, below!
Maple Leaf Adventures: Website, Instagram, Facebook
Outer Shores Expeditions: Website, Instagram, Facebook
Bluewater Adventures: Website, Instagram, Facebook