How does a PhD in Marine Ecosystem Science earn one of Canada's top sustainable tourism awards? Well it's a journey that may sound dreamy to many eco-preneurs, and is incredibly inspiring to say the least.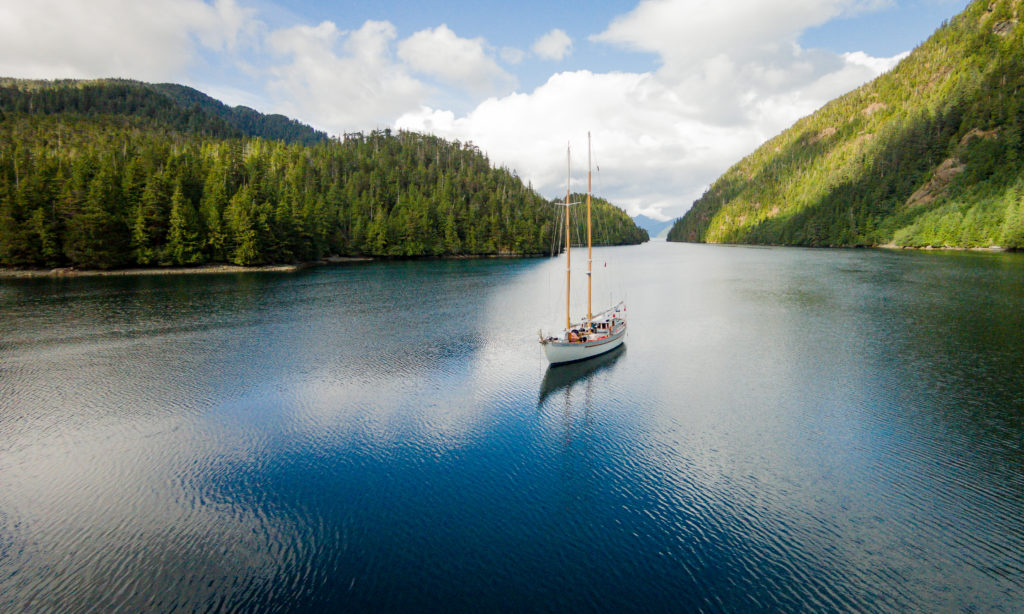 The success of Outer Shores Expeditions starts with one man: owner and captain, Russell Markel. Markel spent the majority of his life and career as a marine ecologist sailing BC's coast in the name of research, and as a mariner teaching sailing and even working for search and rescue. Throughout his career, Markel's passion for conservation deepened and he came to a crossroads in life. "I wanted to best contribute my skills to making a difference in this world and spending my life in academia was not the best way to do that," Markel reflects.
We all value what we know and care about, and after working as a captain and expedition leader for Bluewater Adventures, Russ knew it was time to start his own expedition company.
Markel founded Outer Shores Expeditions in 2012 out of his ambition to start an expedition company that fosters education, awareness, and stewardship, drawing from his extensive experience and education in marine ecology.
Offering a life-changing experience
Outer Shores leads sailing excursions to some of BC's most spectacular and pristine locations on their 70-foot classic wooden schooner, the Passing Cloud. Russ and his team of expert guides educate guests about the wildlife, ecosystems and cultural heritage of the Pacific Northwest.
When guests experience Canada's Great Bear Sea, Haida Gwaii Archipelago, Pacific Rim National Park, Gulf Islands National Park and Great Bear Rainforest with Outer Shores, something magical happens. Time and time again, he witnesses a "transformative experience" in guests. "Having guests on board from all over the world experience and understand the natural world first-hand, they develop a strong personal connection and everyone goes home thinking about what they can do differently in their daily lives," notes Markel.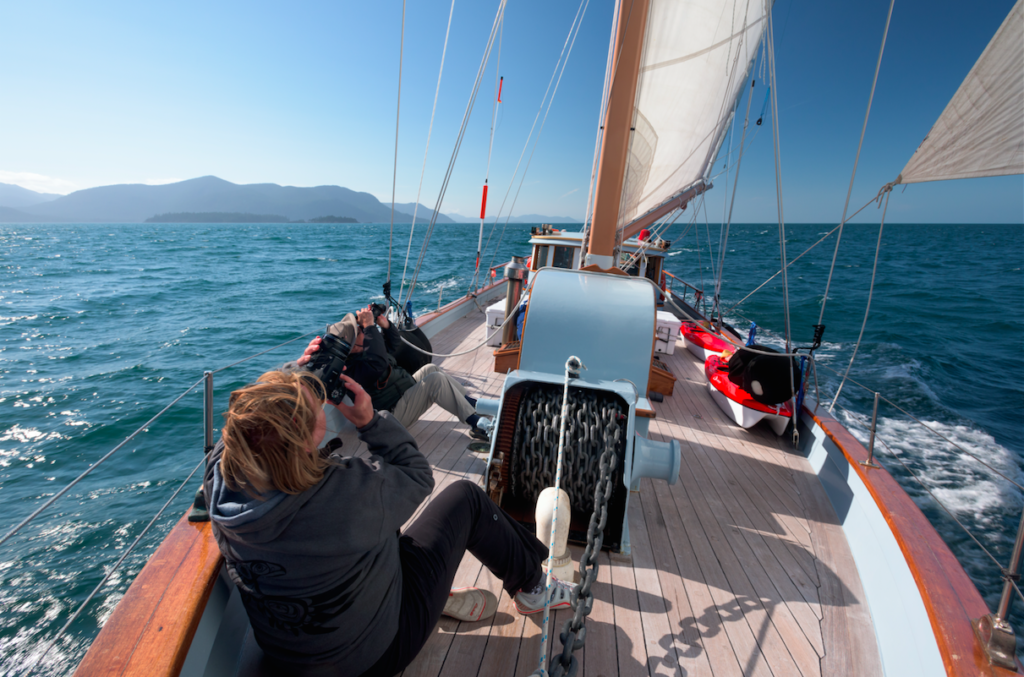 The events that have led Outer Shores to become known as the most Sustainable Tourism business in Canada started with a look at reducing energy. Russ wanted to see what they could do to reduce their environmental impact as much as possible and work with an organization to take a look at the entire company's operations, as well as calculate their carbon footprint. When asked why he joined the program, Markel said, "Green Tourism is very welcoming and has a lot of credibility. I had a lot of information and ideas floating around in my brain, and the assessment process helped me to put together all my policies and get everything and everyone on board."
Within the past year, the big focus has been on converting the Passing Cloud to be as green as possible. Sailboats are inherently efficient; but fuel is still used when sail power isn't possible. Within the past year, Outer Shores has changed all the electronics to improve energy efficiency, including installing LED lights and upgrading batteries used to run the refrigerator, heating and charge electronics on board. To charge these batteries, Markel is looking into installing a solar array on the ship to avoid using a diesel generator.
Carbon Neutrality
Understanding, reducing and offsetting Outer Shores' carbon footprint was a big focus for Markel. "We are always tracking how much we sail to directly reduce fuel and carbon. There is a strong motivation for crew to shorten distances to reduce emissions," says Markel, so he has hired a consultant to calculate and offset the company's carbon footprint. In 2013, Outer Shores emitted 21 tonnes of C02 emissions and purchased carbon offsets through Offsetters, a Vancouver-based carbon management company to become carbon neutral. Outer Shores carbon offset purchases have helped to support three Offsetters initiatives: Great Bear Forest Carbon Project, Lower Zambezi REDD+, and Uganda Efficient Wood Cook Stoves.
Other green initiatives include serving food that is ethical, sustainable, local, and organically grown, produced, raised, or caught in BC. They are also part of several conservation associations in BC.
National Award Winner for Sustainable Tourism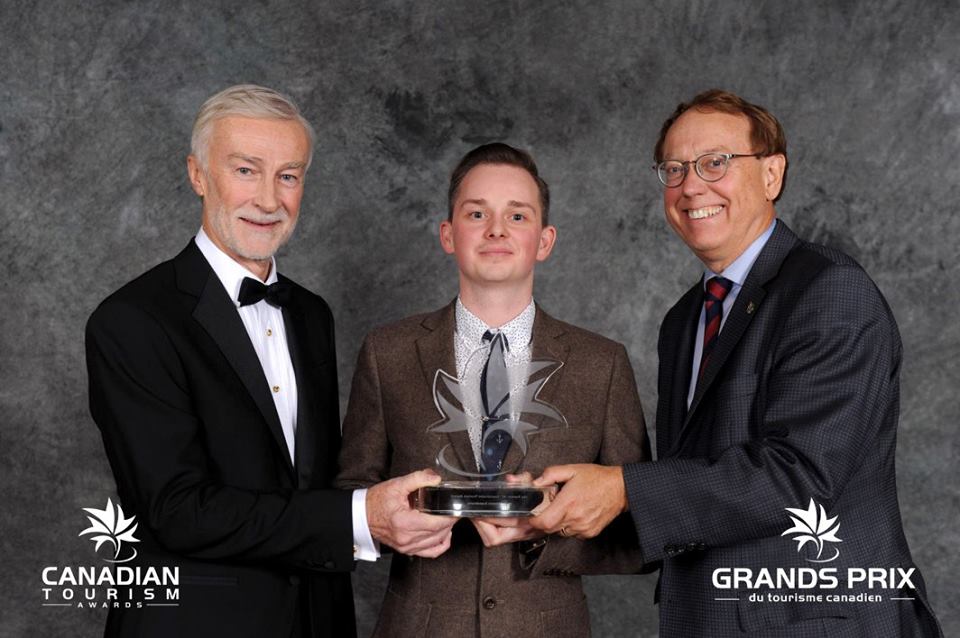 Last month, The Tourism Industry Association of Canada (TIAC) awarded Outer Shores Expeditions The Transat AT Inc. Sustainable Tourism Award at the 2015 Canadian Tourism Awards, presented by The Toronto Star in Ottawa. Outer Shores was recognized for its outstanding contribution to the practice and promotion of sustainable tourism in Canada. "We are very privileged in that our expeditions take place in one of the few places left on the planet where you can still witness what a truly thriving ecosystem looks like and that plays a key role in our understanding of the necessity to help maintain it," says Markel. "It's also why we believe that helping our guests experience first-hand and understand some of the most spectacular wildlife and ecosystems on earth is key to their very protection and preservation."
What Next?
Now the responsibility falls on Markel to provide inspiration and guidance to other tourism business owners that want to either improve their sustainability performance, or start a company that is committed to making a difference in this world.
You can learn more about Outer Shores Expeditions at www.outershores.ca