Bear Claw Lodge is located in the stunning Kispiox Valley, 1.5 hours north of Smithers, British Columbia. Their 15,000 sqft luxury lodge is a bucket list destination for heliskiers (visiting Baldy Mountain), fishermen (fishing the largest wild steelhead in the world), and outdoor adventure seekers (participating in their family friendly Eco-Wild conservation camps).
As a Sustainable Tourism Gold Member, Bear Claw Lodge is taking A LOT of sustainability management actions. Joy Allen, the Owner and General Manager of Bear Claw, filled us in on what they've been doing to work towards sustainable and green tourism.
Composting and growing our own food

Bear Claw had a large productive garden that thrived on all the compost they added from the kitchen and barn. The team built a compost bin out of cedar with a removable front, making it easy to empty and maintain. "Our clients were very appreciative of the 'just picked' salads and vegetables served throughout the summer and fall," said Joy. Natural fertilizer from the trail riding horses was also tilled into the garden at the end of the season, amending the soil for spring planting.
Learn more about reducing food waste in our blog post: 5 reasons why throwing food waste in the trash is wrong.
Solar power cuts fuel costs



The onsite solar system provided 100% of the power during the summer and fall, and well into January this year. The fuel use from the back-up diesel generators has greatly been reduced since the installation. To further reduce power, all light bulbs were replaced with LED lights, which has decreased the power use by 30%, and enabled the lodge to use an ice machine and a few other electric items in the kitchen without overloading the solar demand. They also installed a solar system in the staff house, which has been extremely efficient. "We used one gallon of diesel in two months to run the generator for the staff house to charge up the batteries, another big savings for us," said Joy.
Producing their own honey
Currently, Bear Claw Lodge has three bee hives that are doing well. The owners started to harvest honey late last summer, and it is delicious!
Eliminated plastic water bottles
Staff installed water dispensers in the lodge so guests are able to fill up their reusable bottles on site, rather than providing bottled water. This has eliminated nearly all plastic water bottles.
Logging with horsepower
All of the lodge's firewood for the last two years was harvested by the owners'  son, using a team of horses to skid the logs out of the bush. The same team of horses takes clients on sleigh and wagon rides, depending on the time of year. Having horses is an integral part of the guest and staff experience.
Reducing waste to avoid disposal
The closest recycling depot is 1.5 hours away in Smithers by car, so there is a big incentive to reduce the amount of trips to town. Newspaper and other paper products are shredded and added to the compost, and they are assessing what they purchase to avoid accumulating plastic and tin cans, etc. What they can't eliminate or compost is taken to the recycling depot when trips are scheduled for other reasons. All the money from refundable recyclables is donated to various sports or school groups.
Sustainability education for kids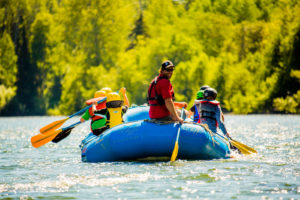 It was a very successful year with the Eco-Wild kids conservation camps, with nearly one hundred kids completing the program. Most of them showed a keen interest in the garden, in preparing and eating what they harvested, as well as respecting the great outdoors.
Homesteading coming full circle
Joy was ecstatic about the outcome of joining Green Tourism, having her daughter, Kaleigh tackling the majority of the assessment process, which spurred them to complete some ideas over the summer to improve their sustainability performance to achieve Gold.
"2015 was a good year, a positive learning process for sure. Our four children, ages 28 to 40, think they are teaching their parents new things [about living sustainably], when in fact, it's the old ways are coming back in fashion. My husband and I grew up with no electricity, no indoor plumbing, milked cows, raised chickens and pigs and never threw anything away. We had never heard of the word 'recycling'", says Joy.
Living off the land certainly is part of living sustainably and operating a sustainable business, and we commend all those at Bear Claw Lodge for their efforts.