Update: As of April 22, 2019, Green Tourism Canada is now Sustainable Tourism.
One of the biggest challenges with recycling in your tourism business can be your guests! With visitors from all over the province, country, continent or globe, recycling habits and understanding can vary significantly. The best way to make it easy is not only clear labelling, but also visual cues. While we understand that it may not be practical or appropriate to have an elaborate display in every guest room or common area; including one spot where guests can clearly see what material goes where can make a big difference.
Green Tourism Silver member, Fawn Lake Resort in Butte, BC, has done just this, creating an innovative and clever central recycling station using repurposed and natural materials. Each glass jar shown in the image above contains examples of what can be put into the bin below.
Green Tourism Gold Member, Vancouver Aquarium, has a similar system, with a plexiglass display case showing visitors what can go in to each bin, from recycling to compost to garbage.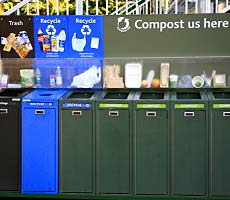 Of course other common spaces on the property, and guest rooms for hospitality businesses, should all have alternative options or methods for recycling and composting (where feasible). In addition, all tourism businesses should have somewhere in the back-of-house, where hazardous waste, e-waste and other items that can be diverted from the landfill are safely stored prior to disposal.