We asked Rolf and Kathrin von Andrian, owners of Myra Canyon Ranch, located above the historic Kettle Valley Railway Trail in Kelowna, BC , to share what they have been doing over the past year to promote sustainability in their business. Read on to find out more about how they are reducing the plastic footprint of the Ranch, encouraging their guests to re-duce, re-use, and re-cycle, and bringing their community together to keep it clean.
Tell us a bit about your business. What makes you different?
Myra Canyon Ranch, with its four self-contained suites, is located right below the Kettle Valley Railway Trail with its historic trestles. We offer stunning views of the Okanagan Valley and the City of Kelowna and are still close to wineries, restaurants, and golf. Our trail rides take guests into Myra Bellevue Provincial Park to explore nature and wildlife. That way we are the perfect place for nature lovers and still only 20 minutes away from downtown Kelowna.
Why is sustainability important to you/your business?
Feeling responsible towards the next generations to come, sustainability is a core value in our private lives as well as in our profession. Hospitality is a process of development and changes for us. We love to challenge ourselves by rethinking daily procedures while offering our guests the chance to experience small and easy steps toward more sustainable tourism.
Why did you join Sustainable Tourism?
Sustainable Tourism 2030 was the right partner for us in asking the right questions to help us make reasonable yet easy changes in our setup. In order to find out where we stood with our sustainable efforts, we loved to work with the team during the certification process.
What sustainability related projects, policies or initiatives do you most want travellers to know about?
"Re-duce, Re-use and Re-cycle" is our No 1 initiative for the coming season. Every suite is equipped with cotton grocery bags to reduce plastic, there are no single use items i.e. shower gel, shampoo and we provide recycling bins as well as composting bags. We encourage our guests to try our fresh well water instead of bottled water.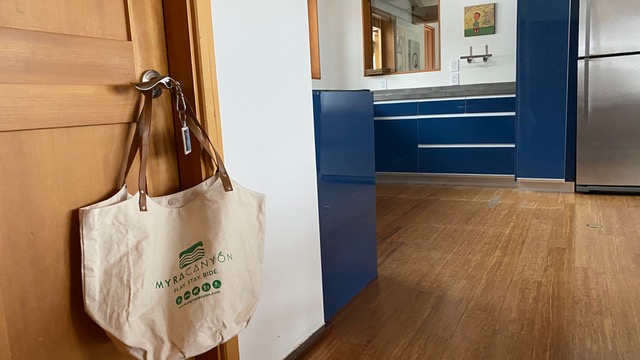 What are some goals and/or actions you plan to take in the future to further increase the sustainability of your business?
We are planning to organize a waste collection day along June Springs Road and Little White Forest Road (in Kelowna) in Spring 2020. Our goal is to reduce the amount of waste through education and information for our guests and our staff.
Thank you, Myra Canyon Ranch for being so dedicated to protecting the environment you live, work, and play in, and for educating your guests to do the same! Reducing the use of single-use plastics is a big achievement, and encouraging guests to opt for free, fresh water instead of plastic bottles is commendable! We are excited to hear about your cleanup efforts and look forward to seeing the results.
Learn more about Myra Canyon Ranch by visiting their website here or check them out on Facebook here.