The wind was howling in Victoria, BC as I sleepily read an email from A 3-Hour Sail's Owner/Captain Rob McCallum. "Today's sailing was cancelled due to high winds, and the forecast is calling for more wind tomorrow afternoon. Would you be available for a morning sail instead?" I looked around at my sleeping family and thought about the repercussions of changing our Mother's Day brunch plans…I decided we'd take our chances and hope for good weather.
The sun was shining when we walked up Pandora Street the morning of Mother's Day. After a hearty breakfast at John's Place, our family walked to Victoria's harbour to enquire whether Tall Ship Thane would indeed sail that afternoon.
Rob cheerfully met us at the harbour entrance, buzzing us in through the steel and glass gate, which is usually open from 8 am to 7 pm June to September. We walked down the dock towards the heritage sailboat, feeling like Rock Stars to be on the dock of Victoria's prestigious inner harbour among the yachts and private vessels.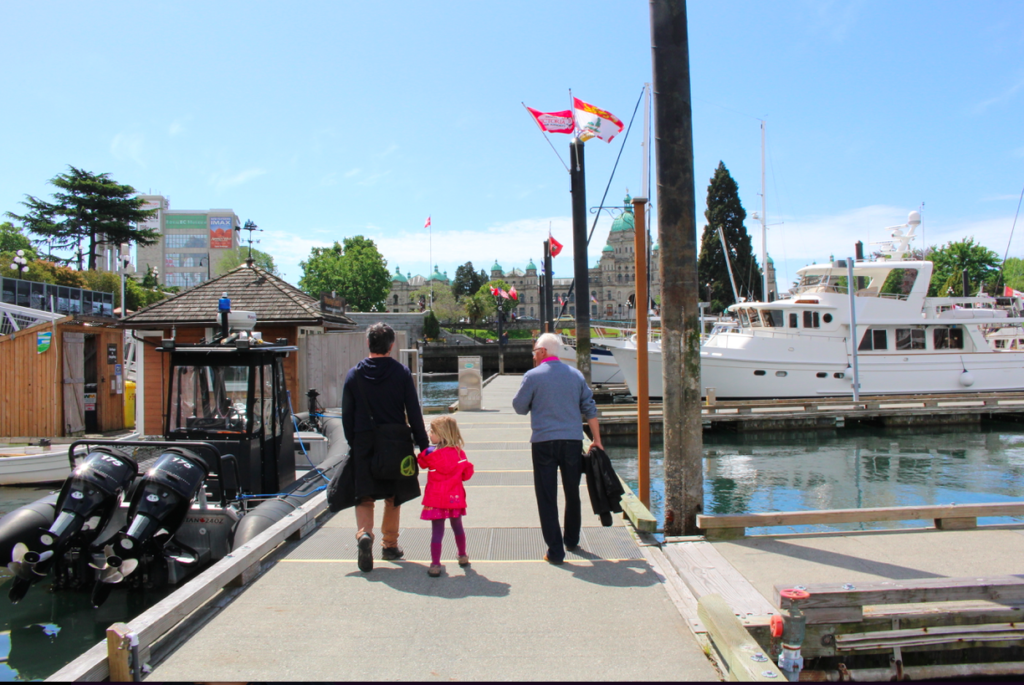 Co-Captain "Banjo" Pete Reid met us on deck and happily said the weather system has shifted and we will be able to set sail at 2 pm for a three-hour adventure in the beautiful Strait of Juan de Fuca. The team sails rain or shine, 2 to 3 times a day between May and September, and ironically, high winds are the only legitimate reason for cancelling. With the happy news, we headed to the Parliament grounds to relax in anticipation of our tour.
After an hour or so of trying to keep our two year old from stripping down naked and jumping in the "hot tub", (i.e. water fountain), it was time to board the ship. With two active children, we asked a lot of safety questions since the lifelines are simply rope, and the sea could get rocky. But Rob assured us the trip would be extremely family-friendly and safe… they haven't had a single incident in over 30 years (besides a few overboard cell phones). The boat is licensed to hold 18 passengers, and there were 13 of us, including a 6-month old baby from Saskatoon.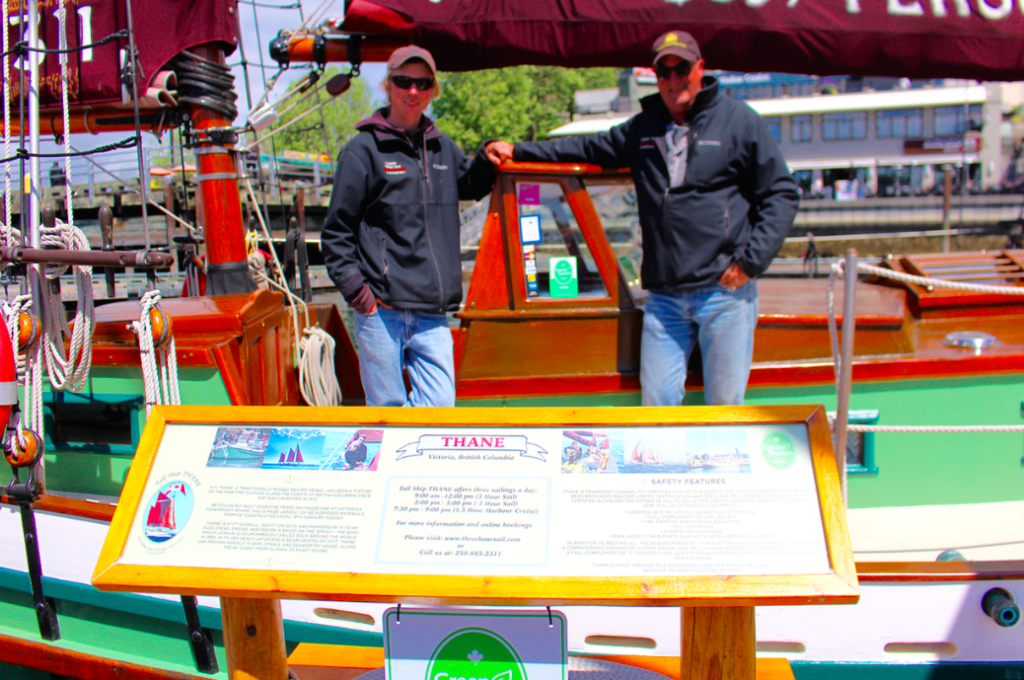 We climbed aboard the 57-foot Tall Ship and gathered to hear the safety briefing with the other guests. We were pleased to hear Rob explain all their sustainability initiatives, which includes the addition of solar panels to run all the ship's electrical needs. Waste is discouraged, and glasses, cutlery and ceramic dishes are available to those who brought food and wine onboard.
After getting the children suited up in life jackets, we headed out of the inner harbour. There is a strict "no sail" rule in the harbour; therefore we had to use the diesel motor. Before I could ask about the ship's fuel efficiency, Rob said, "Even though we have to use our engine to get in and out of the harbour, our ship uses less fuel in one year than that boat [pointing to a whale watching tour boat] uses in one trip". If that doesn't scream out "sustainable tourism", I don't know what does.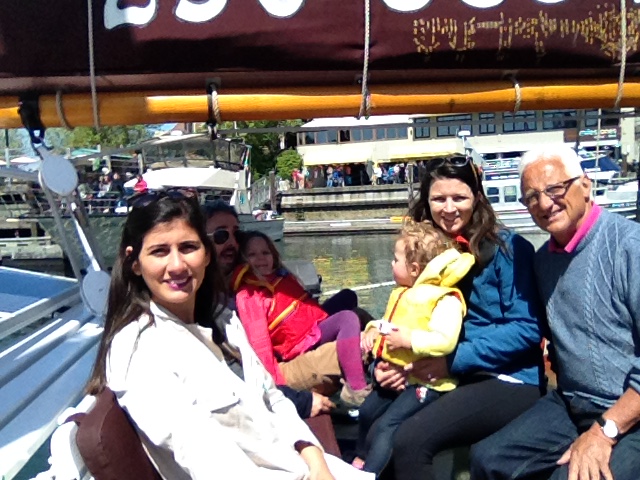 Before we were out of the harbour, I had one child asleep and the second snuggled up beside me. The air was brisk and chilly just before we hit the strait, and most of the guests took care to bundle up with the jackets and blankets provided. Then Rob and Pete asked for volunteers to help raise the sails. With expert guidance, they lead the "new crew" through hoisting sails and steering the ship, making even the most nervous passenger feel at ease on this fine sailboat. And while we were cruising softly through the calm waters, mesmerized by the Majestic Olympic mountain range of Washington and fantasizing about sailing around the Pacific Ocean, we started to notice the craftsmanship of the vessel. Thane is a replica of the Joshua Slocum's SPRAY, the vessel that he famously circumnavigated solo around the world over 120 years ago.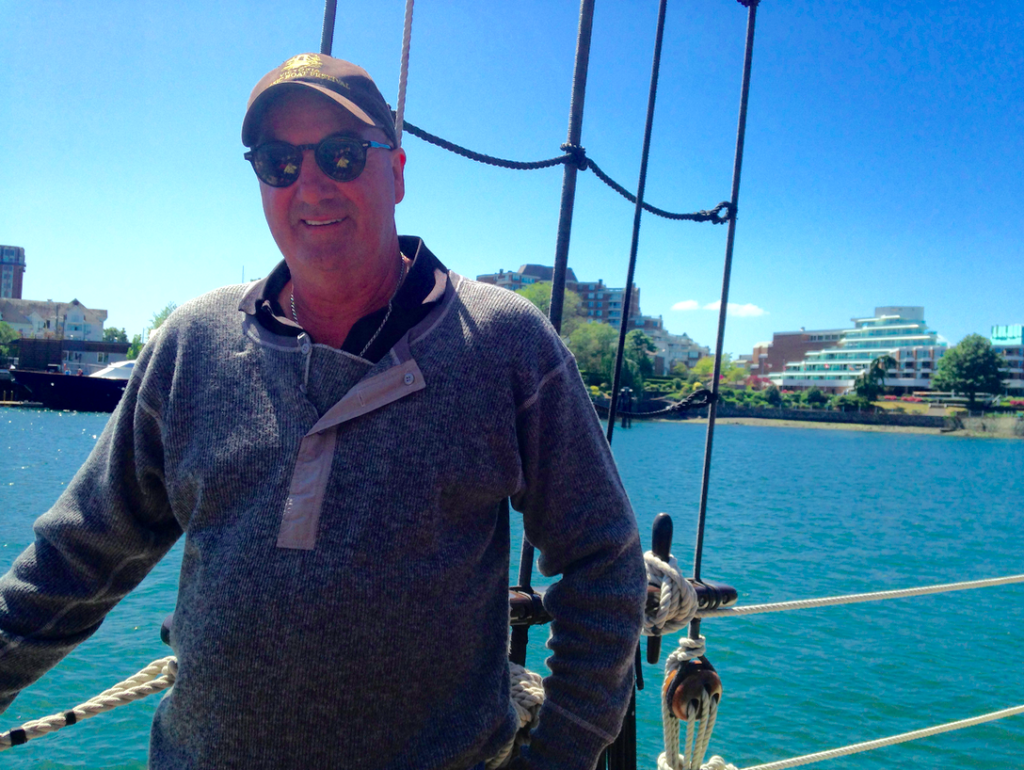 As Rob and Pete talked openly about purchasing and maintaining the ship, I felt the strong sense of pride, joy and care that they put into Thane each year. The Captains do the majority of the refinishing and maintenance by hand, using traditional and modern methods while avoiding toxic chemical strippers. The ship itself is a piece of Victoria's history, being built with 95% recycled, reclaimed and repurposed materials salvaged from deconstructed 19th century houses within the city. I felt like we were part of something very special, just by being aboard.
We settled into a peaceful sail, enjoying our picnic while learning about Rob and Pete's lives as sailors. A guest asked a question about one of three flags flying from the mast. It was the original Colony of Vancouver Island flag, under Governor James Douglas. The same guest asked about how the Colony joined Canada, and the tale told by Rob was full of excitement and trickery, leaving you wondering whether he was telling the truth or not. I encourage all guests to test his knowledge. Whether it's true or not, it will surely entertain you!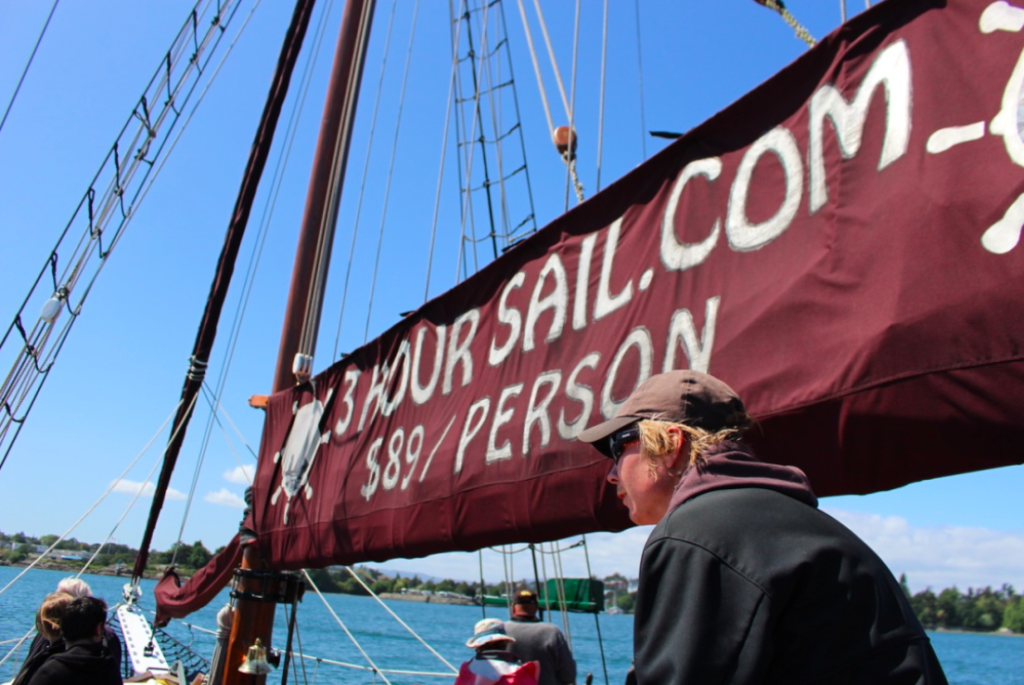 Although orcas were spotted near the harbour two days earlier, we didn't see any whales. However we saw countless birds, a group of sea otters, and a few seals and sea lions on our way back into the harbour. Our little one woke up just in time to see her dad help bring down the sails and watch a seaplane land on the ocean.
Gliding up to Dock 'A', we thanked our Captains for a fabulous and relaxing ocean adventure aboard a traditional Tall Ship. It was an incredible sense of freedom, an experience all travellers should put on their bucket list and try their hand at sailing from Victoria's inner harbour. Our experience aboard Tall Ship Thane proved that Captains' Rob and Pete are both very proud of their gorgeous ship, as well as their sustainable tourism achievements.
To learn more about A 3-Hour Sail, visit www.threehoursail.com.